Equinor and Interface partner to develop fastest and most accurate measurement for minimum miscibility pressure
Challenge
Develop an alternative method for measuring miscibility conditions including Minimum Miscibility Pressure (MMP) and Minimum Miscibility Enrichment (MME)
Reduce the time, cost, and sample requirements compared to slim tube method
Validate the method for the distinct miscibility drive mechanisms, Condensing, Vaporizing, and combined Condensing/Vaporizing drive.
Solution
Miniaturize the traditional slim tube style apparatus using microfluidic technology
Develop a machine-vision based measurement for determining miscibility condition
Results
Time per measurement reduced by over 95% (1 week per MMP)
Achieved ± 2.5 bar (±35 psi) measurement accuracy
Sample volume requirement reduced by 99% (10 mL live oil sample)
Validated miscibility drive mechanisms for most field applications.

The Goal
Equinor is an international producer of oil, gas, and renewable energy headquartered in Stavanger Norway with operations in major onshore and offshore basins worldwide. The team at Equinor approached Interface with a challenge – develop a replacement for slim tube testing for the determination of Minimum Miscibility Pressure. The measurement is critical in all of Equinor's fields where gas injection is used or will be implemented, but the cost, time, and logistics associated with the traditional measurement technique was prohibitive.
Results
Interface developed, in close collaboration with Equinor on design, a slim-tube style microfluidic device. It was validated by measuring the minimum miscibility pressure of three live oil samples and selected gas mixtures from different fields with different mechanisms. Interface's technology reduced time per measurement by over 95%, reduced of sample volume by 99%, and eliminating the need for mathematical interpolation of results by increasing the number of measurements taken per sample by 10-20X. The samples chosen exhibited most observed drive mechanisms in field operation.
Results were compared to slim-tube experimental data and deviations were 2.8% on average.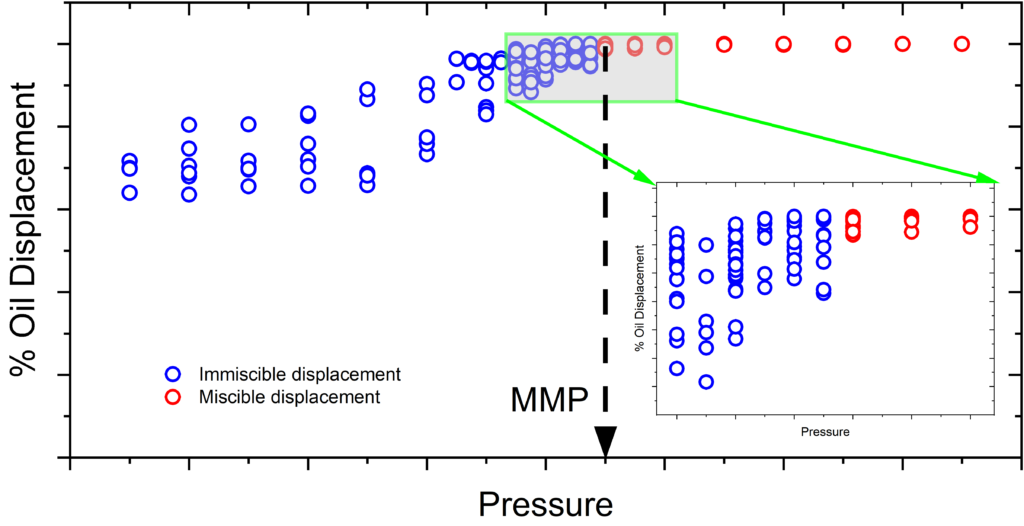 I'm the CEO and Co-Founder of Interface Fluidics. In my admittedly small amount of free time I'm a photographer, maker and adventure seeker. My passion is making. That means I'm equally happy building a company, taking photos, building furniture, or creating dashboards in Tableau. I spend my time wondering how I can change the way people think about, or appreciate the world around them.