When Interface Fluidics started working on SapphireLab, we knew it wasn't going to be an easy road. From mobilizing our portable lab units to engineering the hardware, every single person at Interface played a part in making a commercial product. After all, this innovative fluid analysis system is poised to take testing to the next level – helping de-risk decision making, especially for the offshore industry where operations tend to be more expensive.
The engineering team – made up of technologist Lance Baschuk, co-op student Paulina Graham, and team lead Dave O'Brien – sat down and had a chat about what it was like for them to work on the mechanical design. They also described what this device means for the industry and how it all got started. 

1. How did this project come about?
Lance: "At Interface, we found that our customers really wanted to be responsible and interactive with their samples, and by meeting those needs, that's how SapphireLab came to be."
Dave: "What we were trying to do was take our existing lab studies and package them into a nice little unit that we can deploy on-site."
Paulina: "I think for this project, we were analyzing a client's chemical samples, and then we pitched them the idea of a portable bench. They were really interested, so we started pushing for it."
2. What was your role in the design process?
Dave: "I oversaw the design process. I care a lot about scaling down and reducing the footprint of our devices, so I tried to adopt a lot of those practices in the engineering group. It was actually Paulina who did the design of this, and she did a great job."
Paulina: "I mostly worked with 3D modelling. That was my part. I put together most of the frame. So putting together the full model, adding in the pumps – and just kind of the full assembly.
Lance: "I worked with Dave and Paulina on the design, and also dealt with manufacturing, project management, logistics, and actually building the unit. Pretty much all aspects involved in making the hardware."
3. What did you enjoy most about working on this portable lab?
Lance: "I enjoyed seeing it being built and actually come together as a whole unit. When you're dealing with building a device over many months, especially laboratory equipment, you see it as parts. But only when it comes together, you start seeing it as a full product."
Dave: "What I enjoyed about the project was the comradery, the collaboration. It was the first build that combined Interface's Flowback and Regain Conductivity tests, so it was exciting to go from what's on the computer screen to what's actually built. "
4. What were some of the setbacks that you encountered, and how did you get past them?
Dave: "There were challenges, no doubt about that. I worked this to be kind of a universal design. I took a little bit of extra time because this is something that should be configurable, and it was."
Paulina: "It was a lot more challenging than what it looked like from the outside; there was a lot to consider. It's kind of a learning process as we go along. "
5. Why is SapphireLab important for the industry?
Dave: "The whole idea of microfluidics is it uses a much smaller downhole sample. See, when companies get one sample downhole, it's millions of dollars. So, if they can make that sample last a lot longer, I think that's a big seller for Interface.
They're also excited about the fact that you can run multiple tests with minimal setup. I think that's huge. You can put one chip in, get a measurement, then put another in and get a different kind of test. Like it's that easy, right?"
Lance: "For these companies, sitting around on shorter time frames means money. So, if they know they can save themselves weeks or months of downtime, customers will buy this product.
What we can do is provide a laboratory-on-the-go to be your number-one system. This way, the only thing limiting how much testing a client can do is their own constraints."
Want to know more about the advantages of SapphireLab? Check out one of our blog posts or send us an email at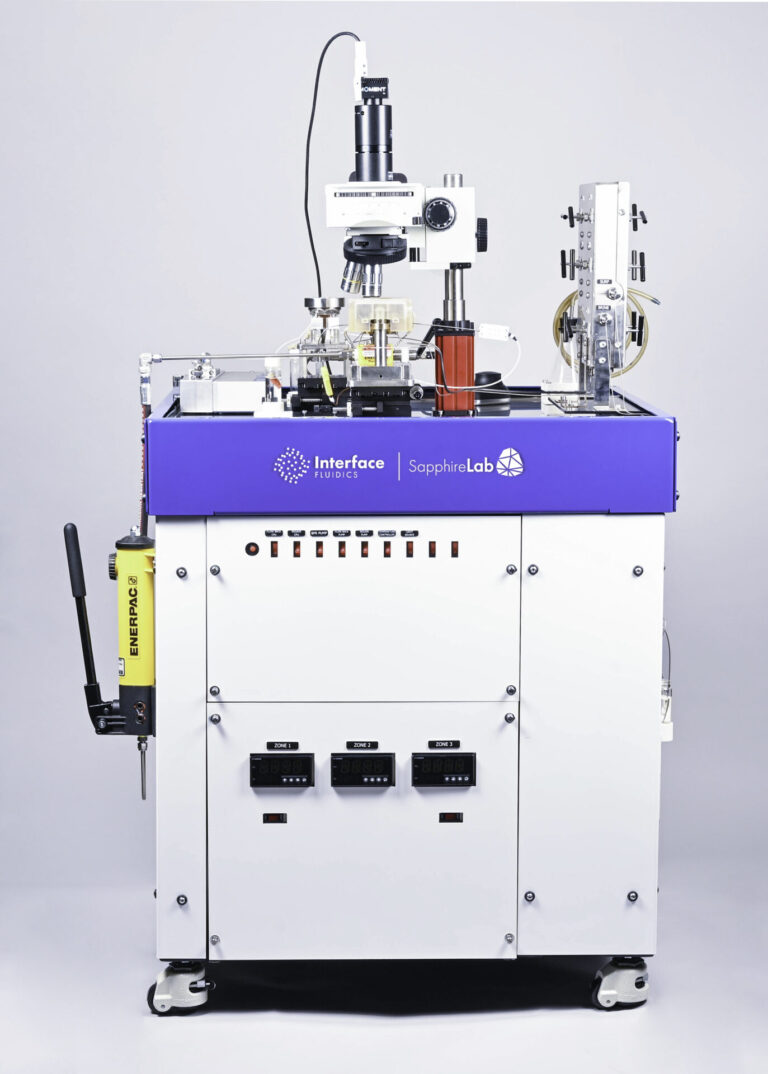 I work as a content specialist in the marketing department, where I research and write pieces for digital and traditional media and support Interface's overall communications strategy. My background is in energy engineering with previous experience in both engineering and marketing for engineering companies, start-ups, and NGOs.